Hi all
I am looking for people interested in narrative approaches, whether that is clinically or as a research method...
Ideally, someone arty...
I am going to run a workshop (1hr, 50m)- akin to some action research. We will introduce PositiveNegatives, a company that conduct ethnographic research and narrative interviews, and then turn these stories into comic books.
I have permission from the man behind PositiveNegatives to turn this into an interactive workshop.
My thoughts were to conduct a brief narrative interview in the workshop, then task individual tables with creating a section or page of a comic book depicting that story.
We'll then pin up all the segments of the comic and sit back and witness the story.
As per the subject area...I am considering the 'journey to DClinPsy' - as we all know, there are many barriers and the arena is potentially inequitable/inaccessible to some...This is a chance to voice those relatively unheard experiences and put them on the table...
Other ideas for the topic of inquiry will be welcomed though!
AND please do comment or feed back on the ideas here...So far it has only been my head, and some reassurance from a lecturer that this sounds interesting....
It is REALLY soon though- for this conference: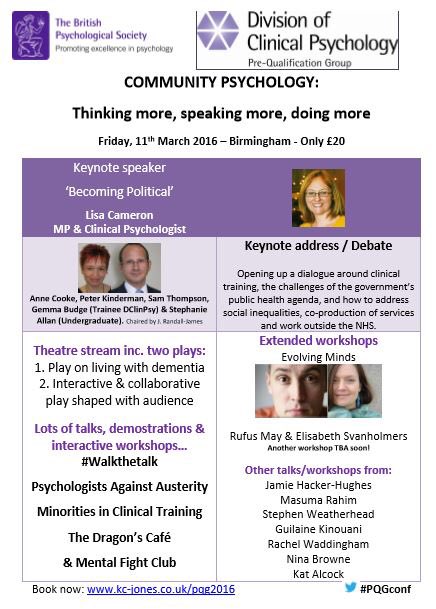 THANKS